Allen HS cornerback Devyn Butler (5'10" 175 lbs.) made a campus visit to UH on Monday. Butler was a midterm grad committed to Arizona but was the odd-man out on signing day. He's looking for an opportunity and with little depth at CB, Houston might be the perfect fit.
Butler graduated a semester early in anticipation of getting to Tuscon and participating in spring ball. The 2018 THSCA All-State Academic selection graduated with a 3.72 GPA and had a 1230 SAT score.
It appears that Butler was caught in a numbers game with Arizona. The Wildcats are pretty well-stocked at CB and had room for two corners in the 2019 class. They signed the #58 player in Texas (6'1″ Bobby Wolfe/Houston Madison) and another 6'1″ CB.
Butler was offered by Arizona last April while on an unofficial visit but no other big-time offers came for him. He has an offer from Air Force and one from Penn. UH safeties coach Blake Gideon is his primary recruiter.
From video, you can see that Butler is a little raw and needs to continue working on squaring up on his tackling. He also needs to work to stay on his feet. But he does play with aggression and seems to play bigger than 5'10". Last summer, Butler told WildcatAuthority.com that he's a physical guy that can play all over the field.
"I'm a physical DB who can come down and hit well," Butler said. "I think I'm great in coverage and I have that allow me to move all over the field. I can press or play off in the slot or nickel. I've pretty much played every DB position. I hope that schools recognize they can use me wherever there's a need because I'm capable of playing everywhere."
Butler has good speed – his personal website says he has a verified 4.48 in the 40 but recruiting services most often use the 4.63 he ran at Nike's The Opening. He also has good hip movement, critical for a CB that needs to change direction on a dime.
The previous staff left UH in a lurch at CB: Johnathan Phenix is the only guy on scholarship in the freshmen and sophomore classes. If Butler chooses to come to UH, Butler would add depth to the roster in one of the most needed positions.
More on Butler including his HUDL highlights and his measurables: https://www.devynbutler.com
Subscription Special: $30 OFF THE 1ST YEAR
Subscribe to GoCoogs.com to gain access to our premium HOUSTON COUGAR analysis and our subscriber-only forum, The Veer. Right now, you can get a subscription to GoCoogs for just $49.99 for the first year – that's $30 off our regular price!

1 Year Subscription – $49.99
See Subscription Benefits

*After the first year, your subscription renews at the regular price of $79.99.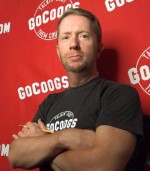 Ryan is the publisher of GoCoogs.com. He is also a real estate agent and an entrepreneur. He started GoCoogs to provide content for under-served UH fans looking for information on their Cougars.